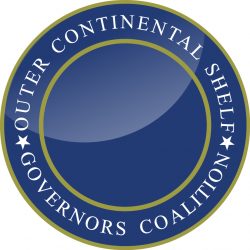 OCS Governors Coalition Announces Support for Increased Offshore Access and Enhanced Revenue Sharing to Bolster Coastal States and Energy Production on the OCS
Washington, D.C. – The Outer Continental Shelf (OCS) Governors Coalition today announced its support for increased revenue sharing and energy production on the OCS. Alabama Governor Kay Ivey, Chair of the OCS Governors Coalition released the following statement on the organization's behalf:
"As our states recover from both COVID-19 and the economic downturn, we need to build a path to recovery by looking for ways to stimulate our respective economies, create jobs and provide relief for our families and businesses. With Gulf of Mexico and Alaska energy as the lifeblood of our nation, it is important to continue to supply the country with energy to meet our critical needs and consider its role in our recovery efforts."
"We continue to ask that Congress works to increase revenue sharing for coastal states and to find a long-term compromise that allows for broad access across the entire Gulf of Mexico, including the deepwater Central and Eastern Gulf.  A commitment to access coupled with enhanced revenue sharing for coastal states will significantly add to state revenues and help drive the economy and contribute to securing America's energy security for generations."
"The Gulf states and Alaska look forward to continuing the legacy of supplying the nation's energy."
In May 2020, the OCS Governors Coalition sent a letter to congressional leadership urging them to remove the $375 million cap on Gulf of Mexico Energy Security Act (GOMESA) of 2006 funds and establish a revenue sharing program for Alaska. These funds are critical to our working coasts and protect the environment, the nation's energy supply and our citizens.
###
About the Outer Continental Shelf (OCS) Governors Coalition 
Formed in 2011, the coalition of bipartisan coastal governors includes Governor Kay Ivey (AL), Governor Mike Dunleavy (AK), Governor Tate Reeves (MS), Governor John Bel Edwards (LA) and Governor Greg Abbott (TX). This coalition advocates for safe energy expansion through responsible resource development and supports proactive offshore energy production as part of a comprehensive national energy policy. The coalition provides a discussion and policy platform for offshore energy issues shared by coastal states and the federal government.
Contact:
Leah Garner
334-242-7150
Leah.Garner@governor.alabama.gov