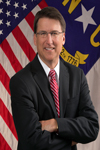 Raleigh, NC –  Governor Pat McCrory has accepted the position of vice chair of the Outer Continental Shelf (OCS) Governors Coalition.
"Opening up the waters off North Carolina to sensible oil, natural gas and renewable energy development is a vital part of our state's energy policy," Governor McCrory said. "Through the OCS Governors Coalition, we are sharing information with our counterparts to increase our states' effectiveness in increasing safety, expanding economic benefits, and preparing for access to these abundant resources."
Formed in 2011, the coalition supports responsible energy development and promotes a stronger dialogue between federal and state policy makers on offshore energy matters. The coalition chairman is Alaska Governor Sean Parnell.  In addition to Governors Parnell and McCrory, the coalition includes governors of Louisiana, Texas, Mississippi, Alabama, South Carolina and Virginia.
"The common interest of all coastal states to maintain safe and secure coastlines, and create high-paying and lasting jobs, has led to growing cooperation between coastal governors," Governor Parnell said. "Our states collectively seek better communication and cooperation with Washington and a better understanding of the future of offshore energy. America's offshore energy potential can translate into economic progress for our states, as well as the nation. Governor McCrory has already shown great leadership and vision in support of this effort and the governors in the coalition welcome him as the new vice chair."
Recently, the OCS Governors Coalition met in Biloxi, Miss., where Governors McCrory, Parnell (AK) and Bryant (MS) addressed the Southern States Energy Board about the benefits of safe energy production for coastal states. The governors also urged their fellow policymakers to support federal legislation to expand and enhance revenue sharing for states hosting production near their shores.